Final Conference
JOIN US AT THE FINAL CONFERENCE!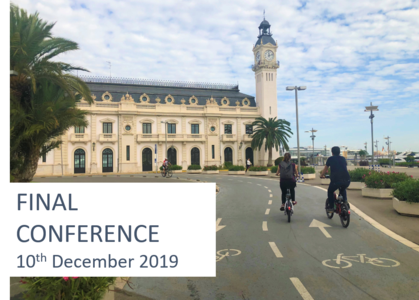 VALENCIA, Tuesday 10TH december, 2019
POST Conference Update: read the related news here
What will we do?
After three years, SUMPORT is coming to and end. Join our final event in Valencia, Spain, which will be hosted by Fundación Valenciaport . We will discuss the results of the project and, more widely, the policies and measures that port cities can put in place to promote sustainable transport and change of behaviour in MED Cities. This event will also mark an important moment with the signature of a Memorandum of Understanding among the cities that took part in the project, showing their committment to keep working on the topic of sustainable mobility.
Technicians and experts will have the chance to discuss the measures that were implemented, and we will foster the debate to improve understanding and strategies to implement good practices.
We welcome particularly institutions, policymakers and stakeholders, and any organisation willing to contribute to the development of the topics of SUMPORT.
Venue: New Building Of The Port Authority Of Valencia, Avenida Muelle Del Turia S/N 46024 Valencia, Spain
FINAL agenda AVAILABLE!
Download the final agenda below