New bike lanes and "bus & bike" parking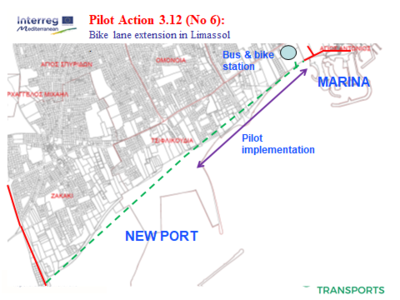 Objective of the pilot
Our goal is to complete the bicycle lane network along the seaside and to provide a secure connection of the port with the whole city by bicycle, thus providing visitors with an alternative way of transport.
What are we doing there?
In the existing cycling route network of Limassol there is a gap in the area east and west of the city's New Harbor. With the implementation of this pilot project we aim to design the network in order to fulfill the gap, so that there is complete planning, and to proceed on with the construction of the part that connecting the two ports of the city and the Marina. At the same time, a tourist bus terminal will be built as well, which will also be connected to the new cycle network, and will provide the possibility to implement a system of "bus and ride".
Who will benefit from it?
We believe that the new cycle path will be used first by all citizens of Limassol, who will be able to use the bicycle for their journeys across the coastal front of the city, which is about 25 km long. We also aim to be used by visitors arriving in the city on cruise ships and who would like to use the bike to visit the various important points of the city.
Partner responsible for the pilot action
Limassol Municipality
About this pilot
25
km of waterfront connected