Bike network extension in Durres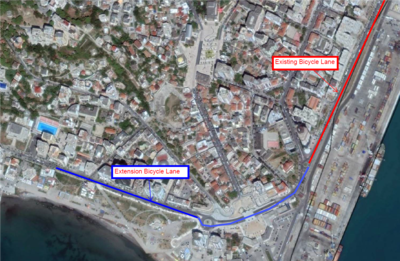 Objective of the pilot
Durres Municipality aims to extend the bicycle lane network to reduce car usage and promote a healthier lifestyle, while reducing congestion, air pollution and noise.
What are we doing there?
Durres Municipality has already started the construction of bicycle lane network within the city. The length of the existing bicycle lane network is about 6.5 km. The pilot project foresee the extension of the existing bicycle lane network toward the Taulantia Street. The project is planned to start in May-June 2018.
Who will benefit from it?
Trade and business companies located within Pilot Project area of influence;
Relevant Non-Governmental Organisations (e.g. cycle lobby groups, transport user forums);
Other stakeholders affected, directly or indirectly, by the Pilot Project.
Partner responsible for the pilot action
Durres Municipality
About this pilot
6.5
length of existing bike network